Así es una sesión fotográfica con Jennifer Lawrence
Todos tenemos nuestros sueños.
Algunos son simples, mientras que otros son complejos, enterrados bajo una abrumadora montaña de obstáculos. No es frecuente que la gente viva sus sueños. Pero, ¿qué sucede cuando lo haces? ¿Qué sucede cuando logras cada objetivo en tu camino? ¿Cómo planeas para el futuro cuando no tienes nada que perseguir? Estas son preguntas que recientemente tuve que hacerme a mí mismo porque logré el único sueño que había estado colgando en mi cabeza desde que empecé en fotografía. Puede parecer simple, pero para mí fue complejo. Mi sueño era fotografiar a Jennifer Lawrence.
Crecí la mayor parte de mi vida adolescente en un vecindario agradable. Mi familia poseía y operaba un negocio exitoso de distribución, así que vivimos una buena vida. Varias casas de la nuestra vivían la familia Lawrence: Karen y Gary, dos hermanos Blaine y Ben, y una Jennifer de ojos brillantes y rubia. A lo largo de la escuela secundaria, mi hermana mayor salió con Ben por algunos años ya menudo cuidaba a la joven Jennifer. Aunque no tenía mucha conexión con Jennifer o la familia Lawrence, mi hermana ciertamente sí.
Poco después de regresar de una aventura en Irak , recibí una llamada de mi amigo Coury Deeb, fundador de Nadus Films (una compañía de producción con sede en Louisville que trabaja fuertemente en la industria sin fines de lucro). Coury había estado trabajando de cerca con Meredith y Karen Lawrence, que colaboran con Jennifer para su fundación. La fundación de Jennifer Lawrence apoya a varias otras organizaciones no lucrativas con un foco primario de niños en necesidad.
La familia Lawrence estaba planificando del evento de recaudación de fondos «The Power of One» presentado por la Fundación Jennifer Lawrence y el Frazier History Museum; que recientemente acaba de abrir las puertas a The Hunger Games: The Exhibition . La exposición interactiva cuenta con trajes reales y accesorios de la producción de la serie The Hunger Games . Es una exposición masiva que absorbe el foco de todo el museo. Era totalmente lógico utilizar esa atmósfera para organizar este recaudador de fondos. Por suerte para nosotros, la fundación estaba interesada en tener el evento capturado estilo Nadus.
A través de numerosas reuniones e innumerables ideas, aterrizamos en un plan de acción. Nadus Films documentaría el evento mientras fotografiara a Jennifer en dos sesiones de estudio. Uno de ellos es un retrato sentado con varios niños que la fundación apoya, y el otro es un retrato sentado con su solo y unos pocos amigos que asisten al evento con ella.
Entonces hice algunas llamadas a algunos amigos en la industria de la fotografía. Primero, Sarah Oliphant de Oliphant Studios . Había imaginado un dramático retrato sincero en blanco y negro con los niños. Un humor que se sentía muy alegre, pero natural e íntimo. Quería usar un fondo oscuro, pero con suficiente carácter para flotar detrás del sujeto. En otras palabras, yo no quería que Jennifer caiga en la oscuridad, yo quería una textura de superficie gris para levantar el contraste.
No trabajo a menudo con el negro como fondo pero gris, así que me emocioné cuando Sarah proporciona una opción que podría abastecer a mi visión. Por otro lado, sería un fondo alternativo con más de un tono cálido y una viñeta fuerte. Un fondo que más de un estilo estándar de lo que usted vería en una fotografía de Leibovitz. Yo usaría ambos de estos lienzos de fondo durante un período de dos días.
La siguiente llamada fue a Digital Transitions . Un minorista con sede en Nueva York para la Fase Uno y varias otras marcas profesionales de fotografía. En este caso, una fase IQ3 80MP XF media formato de la cámara con un Schneider Kreuznach 40-80 mm LS f / 4.0-5.6 lente.
La razón por la que elegí para rodar con un formato medio sobre mi caballo de batalla una Canon 5D Mark III se debe a varias razones. En primer lugar, quería la resolución. No sabía qué esperar. Yo sabía que el rodaje sería muy rápido, por lo que la resolución masiva del archivo digital proporcionaría un soplo de opciones en el post-procesamiento. Podríamos recortar de forma dramática o alterar la exposición sin sacrificar la calidad de la imagen. En otras palabras, era una seguridad en caso de algún contratiempo. En segundo lugar, yo quería el hermoso aspecto de mantequilla que ofrece una cámara de formato medio, que, si se utiliza correctamente, puede parecerse a la película. Aunque prefiero una profundidad de campo en la mayor parte de mi fotografía, quería que esta serie particular se sintiera cálida y suave con un aura dramática.
Me sentía confiado acerca de las herramientas en juego, sólo necesitaba un plan de acción para la configuración, incluyendo la iluminación, la logística y la seguridad. Con Jennifer Lawrence, quería proporcionar tanto espacio como sea posible. Sabía que tendríamos unos pocos momentos, así que necesitaba que el conjunto fuera versátil. Tenía que ser la luz adecuada, lo suficientemente abierta para ofrecer múltiples opciones de presentación sin un cambio. Por lo tanto, fuimos grandes y suaves.
Para ambas sesiones hemos optado por utilizar un Profoto D1 modificado con un 51 «Profoto Profundo Deep White Umbrella con un 1.5 Parada Profoto Umbrella Diffuser como una luz clave. Como luz de relleno, usamos un Profoto D1 modificado con un 65% Extra Profoto Deep White Umbrella con un 1.5 Profoto Umbrella Diffuser . Hemos usado la luz clave para suavizar las sombras y ofrecer una luz más natural. Todo el conjunto estaba cubierto de tela negra para negar el rebote de la luz y aumentar la densidad de las sombras en su rostro.
Estaba nervioso. Pero la ola de ansiedad no fue causada por el hecho de que esta fue la celebridad más popular y exitosa que jamás haya pisado delante de mi lente. Pero en cambio, fue porque quería que la imagen honrará a Jennifer y que mi fotografía se alineara con su marca y con nuestra cliente, la Fundación Jennifer Lawrence.
Llegamos temprano al recinto sólo para recibir algunas malas noticias: el rodaje con los niños fue cancelado. Me sentí decepcionado, pero estaba agradecido por la oportunidad de tener el segundo día. Sin embargo, hemos cargado en todos nuestros equipos por si acaso, y me alegro de haberlo hecho. A menos de una hora de que el evento se llevara a cabo, recibimos la noticia de que nuestra sesión de retratos con los niños era un ir … con sólo una hora de ventana para preparar.
Afortunadamente, este no fue nuestro primer rodeo con este estilo de proyecto y estábamos preparados para cualquier cosa que fuese lanzado en nuestro camino. Teníamos nuestra preparación, teníamos nuestro equipo y mis asistentes preparaban el set de la sesión. Pasé un breve período de pre-staging en escena, pre-iluminación y asegurarse de que todos los preparativos se hicieron que habíamos planeado.
Después de una sesión de autógrafos rápidos, la llevé a nuestro «estudio», donde la fotografiaríamos con unos pocos niños selectos. Este paseo proporcionó el tiempo para ponerse al día brevemente y hacer una conexión. Cuando llegamos al set, señalé un taburete que habíamos preparado y empezamos a seleccionar varios niños. Me aseguré de mantener su atención mientras hacíamos pequeños ajustes a la luz y traíamos nuestro primer tema.
Jennifer nunca había conocido a la mayoría de estos niños, así que entonces era mi trabajo hacer que el momento potencialmente incómodo se sintiera bien. Disparé el obturador mientras hacía todo lo posible para guiar a Jennifer y a los niños a tener más conversación, al mismo tiempo que pinchaba con bromas incómodas para sacar algo de risa. Instintivamente, Jennifer saltó y ayudó en el proceso.
Mientras que sólo podía disparar varios marcos por niño, estaba confiado en lo que capturamos. Después de cuatro series de niños, un pequeño fallo técnico, y casi 30 fotogramas más tarde, Jennifer salió ya entrada la noche.
El segundo día comenzó temprano ya que teníamos un montón de configurar para hacer. Mientras que el conjunto se utilizó principalmente para un «retrato-cabina» profesional para los invitados del evento de recaudación de fondos para la noche, nuestra prioridad fue el retrato en solitario de Jennifer. Después de casi cuatro horas de puesta en escena, estábamos listos. Recuerdo vívidamente el paseo de ida y vuelta de varios minutos antes de que Jennifer llegara al set. Nos dieron la noticia de que llegaría con una comitiva, que incluía a Frances Lawrence, directora de la franquicia cinematográfica The Hunger Games , que sólo aumentó la presión.
Esta fue mi oportunidad para abrir las puertas y tenía que estar bien – tenía que ser perfecto .
Mientras Jennifer caminaba hacia el set, le di un suave abrazo, luego le pedí que tomara aliento y se sentara junto a una mesa de presentación que habíamos pre-escenificado horas antes. Después de 10 segundos de charla, cogí la cámara, me enfoqué y cerré la persiana. Con un repentino destello, toda la ansiedad desapareció y sentí una oleada de adrenalina. Luego nos abrió varias posiciones que había preestablecido y pensado.
Mientras que Jennifer necesitaba poca dirección, las ideas más pequeñas la ayudaron a proporcionar la expresión que buscaba.
Después de sólo ocho fotografías, Francis saltó en un par de cuadros. Hice mi mejor esfuerzo para hacer un momento más memorable. Lo mantuvimos divertido, lo mantuvimos alegre y fue rápido.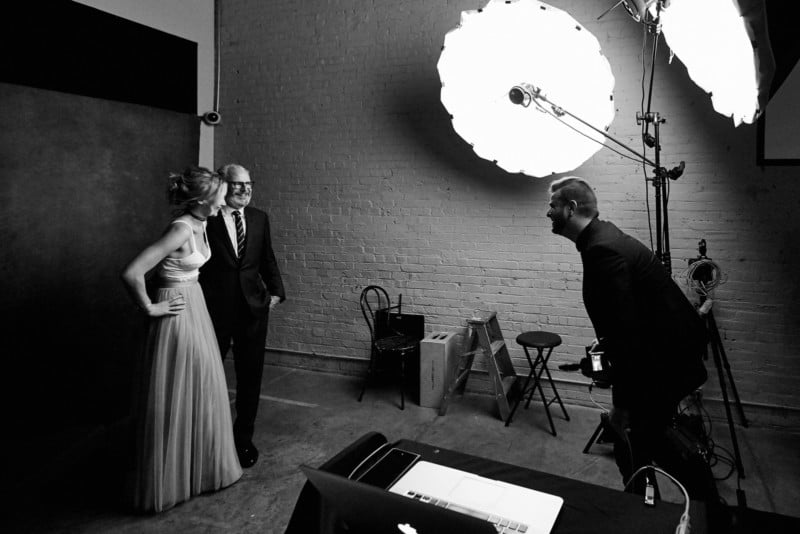 Sólo 10 minutos más tarde, después de un gracioso adiós, Jennifer y toda su tripulación se fueron al siguiente compromiso. Dejé la cámara, retrocedí y exhalé una ráfaga de aire. Después de un momento de pausa, rápidamente me dirigí a mi MacBook y revisé las imágenes; Estaba orgulloso. El resto de la noche vino como un alivio y volamos un poco de vapor con unos cócteles.
Como fotógrafo profesional, es mi trabajo hacer el proceso fácil y rápido. A pesar de haber estado en cientos de campañas, decenas de películas, y en casi todas las portadas de revistas del mundo, Jennifer y su equipo confiaron en mi profesionalismo, intuición y ojo. Ella confiaba en mí para producir algo especial.
Esas 48 horas fueron un viaje emocionante que nunca olvidaré.
---
Un agradecimiento especial a Nadus Films, a Jennifer Lawrence, a Karen Lawrence, a Meredith Lawrence, a Andy Treinen, al museo de la historia de Frazier, a los acontecimientos de Ina y Marcella, a JP Davis, al fondo para las artes, a Jordán Hartley, a Hunter Zieske, a Louis Tinsley, a Stacy Swiderski, a las transiciones digitales y Oliphant Studios.
---
Sobre el autor : Clay Cook es un fotógrafo con sede en Louisville, KY, y es el propietario de Clay Cook | Fotografía . Además de su sitio web, puedes ver más de su trabajo en su blog . Este artículo también fue publicado aquí .